NewTech Biochar Water Treatment
Technology Name
NewTech™ Biochar Water Treatment
Technology Description
Biochar-catalytic oxidation-reactive filtration wastewater treatment process
Technology Stage
Pre-Commercialinstallations at water treatment operations from <1 mgd to >10 mgd (proven technology, not yet widely adopted)
Technology Application(s)
On-site wastewater treatment and nutrient recovery for agricultural application
Biomass Energy
Contaminant Destruction
Water Sterilization
Nutrient Removal
Biochar Fertilizer
Phosphorous Recovery
Water Reuse
Carbon Sequestration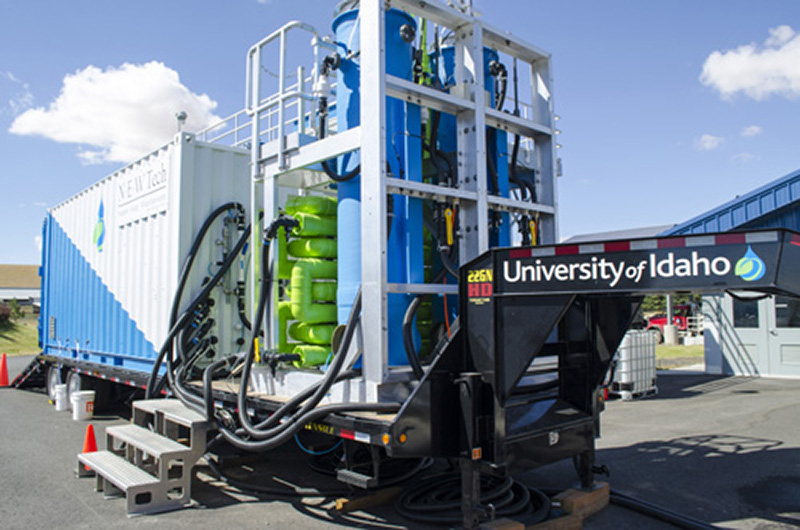 Technology Benefits:
Builds drought resilience:

Enables process water to be reused, significantly reducing withdrawals of valuable potable water supplies (urban drinking water resources, including surface and groundwater).1
Removes nitrates, phosphorus and other contaminants from process water effluent, enabling reuse for irrigation, groundwater recharge, drinking water for livestock, washing food processing equipment, and other non-potable purposes2
Potential for treating water to high enough quality for direct potable reuse
Addition of biochar to soils decreases bulk density, increases total pore volume, and increases available water content in a wide variety of sandy soils, which are common in Tulare County.1
Biochar increases the drought resistance of fungal and bacterial communities within soil due to faster recovery from disturbances.2

Supports electric reliability:

Reduces electric consumption
Reduces electric demand (

kW

)3
Increases renewable energy production

Reduces greenhouse gas emissions:

Carbon-negative process uses modified biochar to remove contaminants and enhances the biochar for agricultural application, where it stores carbon for at least 200 years.
Efficient capture and treatment of biosolids at the source reduces escaped methane emissions.
Biochar Reduces

CO2

, CH4, and N2O flux of the soil, reducing agricultural greenhouse gas emissions.4

Reduces ratepayer costs:
Reduces regulatory and environmental risks:

Nutrient removal and recovery reduce nitrate and phosphorous loads in effluent water, reducing nitrate contamination in groundwater supplies from reclamation areas.
---
1 http://bioforcetech.com/process.html
2 Liang, C. et al. Biochar alters the resistance and resilience to drought in a tropical soil
3 Liang, C. et al. Biochar alters the resistance and resilience to drought in a tropical soil
4 Liang, C. et al. Biochar alters the resistance and resilience to drought in a tropical soil
Current Status
Technology was designed and built at the University of Idaho and won the first round of the Everglades Challenge. It has been successfully installed and benefits documented at (X) facilities:
Project site. Project description.

Benefit – benefit documented