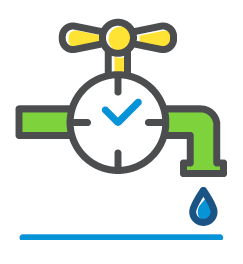 California's Title 20 Appliance Efficiency Regulations requires sellers of fixtures, appliances, and equipment to certify that fixtures and appliances that are "sold or offered for sale" in California comply with then-current code. In this manner, the state assures that new fixtures and appliances purchased in California will meet or exceed current code.
California's Appliance Efficiency Regulations were updated through the 2015 Appliance Efficiency Rulemaking, Docket 15-AAER-05: Toilets, Urinals, and Faucets Regulations Effective January 1, 2016. Specific changes to the State's plumbing code included the following:
Effective Date
Type of Fixture
Sector
Standard
September 1, 2015
Faucets
Residential Lavatory
1.5 gpm
January 1, 2016
Toilets
Residential
1.28 gpf
Commercial
Urinals
Wall-mounted
0.125 gpm wall-mounted
Others
0.5 gpm others
Faucets
Kitchen
1.8 gpm
Public Lavatory
0.5 gpm
Showerheads
Showerheads
2.0 gpm
July 1, 2016
Faucets
Residential Lavatory
1.2 gpm
July 1, 2018
Showerheads
Showerheads
1.8 gpm
Accelerating Implementation of Codes and Standards
Title 20 does not require that all fixtures and appliances be brought up to code by a certain date, except that properties offered for sale must bring their fixtures and appliances up to code prior to sale or must disclose that the fixtures are not in compliance.
When estimating water, energy, and greenhouse gas emissions benefits from Title 20 code changes for toilets, faucet aerators, and showerheads, the Energy Commission assumed a 20 year changeout period.
Energy Commission staff estimated annual savings of water, electricity, gas, and greenhouse gas emissions during the first years of implementation and 2038, the year during which the existing stock of non-compliant plumbing fixtures are projected to be exhausted (referred to as "full turnover").
Currently, California's regulated utilities are discouraged from funding "early changeouts" of fixtures, appliances, and equipment. The purpose of discouraging early changeouts is to reduce ratepayer investments in strategies and measures that are likely to eventually occur on their own.
Focusing on limiting investments—instead of on targeting investments in a manner that optimizes resource benefits—can inadvertently deter important resource, environmental, and economic benefits.
The below figure shows the incremental water, energy and greenhouse gas benefits that could be achieved by accelerating changeouts of all existing toilets, urinals, faucet aerators, and showerheads that are not yet compliant with current Title 20 code. These substantial benefits are particularly striking when viewed in context of the modest levels of investment that would be needed to achieve them.
Many 1.5 gpm showerheads are already available, both online and in retail stores, some with flow restrictors that can dial flows to as low as 0.5 gpm. Project staff obtained prototypes of 1.0 gpm units that are under development, and procured and tested other units with variable flows less than 1.0 gpm.

Although California does not yet require residential lavatory faucets to use 0.5 gpm aerators, retailers already sell these fixtures to generally positive reviews, especially from parents that stated these aerators substantially reduce water waste.
Incremental Statewide Benefits by Accelerating Title 20 Changeouts
If all water fixtures could be brought up to current Title 20 code within 5 years, instead of 20, the incremental benefits to California are significant and irresistible!
[1] Source: Customer reviews of 0.5 low flow faucet aerators on amazon.com and other purchasing sites. One manufacturer received an average score of 4.4 out of 338 reviews that praised the water savings and reduced water waste. One package of six 0.5 aerators cost less than $10 including shipping.
In California, the State Water Resource Control Board (SWRCB) and the nine Regional Water Boards hold jurisdiction over recycled water in California (the Drinking Water Program [DWP]). Prior to 2014, the California Department of Public Health shared joint jurisdiction over the public health and drinking water supplies but in 2014 the Division of Drinking Water (DDW) was transferred to the SWRCB.